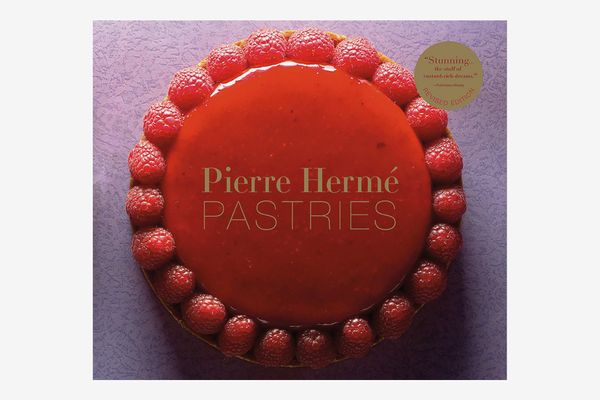 François Payard compares this French pastry cookbook to Escoffier, a classic French cookbook that helped to codify French cuisine and technique. "Pierre Hermé, although modern, I would say does the same in terms of being a solid foundation for French pastry," he says. And if there's only one cookbook you're going to read to learn about French pastries, make it one by Pierre Hermé, whom Antoine Westermann of Le Coq Rico calls, "a magician in pastry as much as he is for chocolate." This cookbook isn't unapproachable, though; Margarita Manzke of L.A.'s République cites it for its "great imagery of the classic French pastries," and it's as good for recipes as it is for inspiration.
"The beauty of French pastry is that there are a handful of critically important techniques one must master in order to create myriad desserts. The core recipes are then built upon to create more complex desserts," explains Umber Ahmad, from Mah-Ze-Dahr Bakery, and that progression of steps and techniques is exactly what this cookbook by Christophe Felder — a pastry chef also lauded by Westermann — lays out. It's perfect for visual learners since, as Ahmad explains, "this book also includes a number of photographs of each step along the way. This is really helpful in pastry, as then you can figure out at which point you may have gone wrong."
"Pierre Hermé is one of the heroes for me. He's the macaron guy," says Thomas Raquel, and though these pastries have become trendy over the last few years, it's still hard to make a really excellent one. So for those hoping to master the technique, this cookbook from the "macaron guy," whose titles were recommended to me by four of the chefs I interviewed, is as solid of a starting point as any.
In the same way that Hermé is the macaron guy, Christophe Adam is the éclair dude. "He was the one that started the trend of the éclair" a couple years ago, says Raquel, calling Adam's work "clean, and it's perfect." And this éclair-only cookbook is "definitely worth having, [and] checking out," Raquel adds. Though the flavor combinations and decorations can get a little wild — like strawberry, pistachio, and mint — this book is still geared toward beginners, with step-by-step photographs on making the crème fillings, the shiny glaze, and the choux, or dough for éclairs.
For TJ and Vera Obias of Du Jour Bakery, Tartine is the perfect pastry cookbook for both home cooks and professionals. It doesn't veer too far from the basics, while still showcasing large photos of extravagant desserts. "The flavors and techniques are top-notch. They do a great job explaining the basics and build from there," they add. This book was also recommended by Manzke in our roundup of best baking cookbooks, where she admitted, "I will never get tired of reading this book. Such a classic. Great photography and recipes."
For a cookbook that's more experimental, and pushes the limits of traditional French technique, Raquel recommends The Elements of Dessert by Francisco Migoya, who's now head chef at Modernist Cuisine. "He is definitely technically driven, incredible talent. He's re-created a lot of classic things," while still putting his own twist on it, explains Raquel. The book starts with a breakdown of basic techniques — like the difference between creaming and blending — and eventually works its way up to delicate macarons and elaborate dessert buffets.
"This book was so over-the-top, I could not put it down 12 years ago when I first picked it up," says Zachary Golper of Bien Cuit of this hefty volume from the legendary French chef Alain Ducasse, though Le Bernardin's Raquel maintains that it's actually quite usable despite its size. "I could honestly say the Alain Ducasse book is the most dependable. You could use it today," Raquel says. "It definitely has a lot of simple recipes, like a frozen soufflé, the traditional French dishes you can do for a dinner party," along with more technical, complicated, and classic desserts, and even savory baked goods, like Riviera Fougasse. It's not cheap, since it's out of print, but it's a great investment for someone studying pastry in culinary school, who thinks baking is going to go from a hobby to a real career — or just someone who's really dedicated to the art of French dessert and pastry and wants a book with inspiration that'll make your mouth water.